Mini Digger Hire Milton Keynes
Hire A Skilled Digger Driver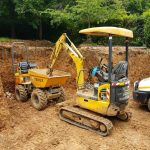 If you are looking for reliable digger operator in Milton Keynes, give us a call. We undertake all types of work with our mini diggers including Foundations, Drainage, Septic Tank installation, Hard Landscape, Water Mains, Trenching, Land Drainage, Irrigation – installation & repairs, Ditching, Ponds – cleaning & formation.
Mini digger for hire with experienced driver for various digging works in Milton Keynes and surrounding areas. CPCS card. More than 15 years experience in digging works, basement digging/ underpinning, ground works.
Professional, reliable and quick services guaranteed. Rate including delivery/collection, fuel, digger and driver hire or price works. Special discount for long lasting projects.
Mini Digger Specifications:
Only 710mm wide, able to track through the standard door way or other access more than 730mm wide and 1600mm height.
Public liability insurance £2M
Call us today if you need:
Excavation works
Drainage works
Foundations for new build
Drive ways digging out and leveling
Garden leveling
Ground works and drainage
Tree stump removal
Demolition works
Basement excavation
Concrete breaking
Why Choose Us?
State-of-the-Art Equipment: Our machines are within 3 years of manufacture.
Fewer Breakdowns: The latest equipment models and our extensive pre-delivery inspection mean reliability and peace of mind.
Unparalleled Support Service: Quick answers and rapid repairs maximize efficiency and minimize downtime.
Flexibility: On-time delivery (with all the required paperwork, including test certificates) and customer-scheduled collection mean you can plan your project for your greatest convenience.
All machines are only available operated